Warm chocolate fondant served with crème anglaise flavoured with Pommeau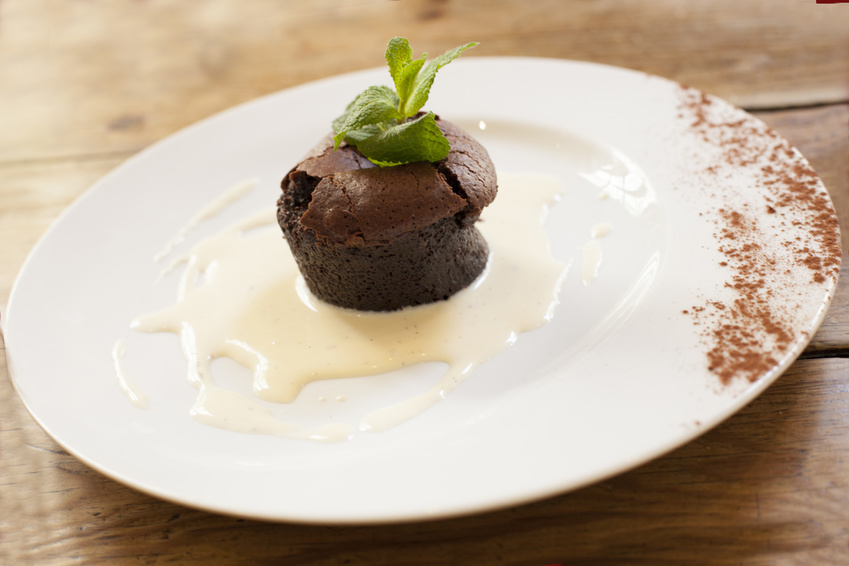 ingredients
Serves 4 people:
100 g dark chocolate
100 g sugar
50 g butter
25 g flour
25 g cornflour
3 egg whites
Crème anglaise:
10 cl milk
10 cl pour­ing cream
3 egg yolks
60 g sugar
5 cl Pommeau
Melt the chocol­ate in a bain-mar­ie. Work the but­ter in a bowl that has pre­vi­ously been heated until you obtain a smooth tex­ture like an ointment.
Add the chocol­ate and sug­ar, work the mix­ture for 7 to 8 minutes, add the corn­flour and flour and mix well. Beat the egg whites into stiff peaks and care­fully add them to the mix­ture. Pour into the ramekins that have been buttered and coated with flour. Bake in the oven at ther­mo­stat 170 for 30 minutes. Remove from the moulds and serve imme­di­ately accom­pan­ied by the Pommeau-fla­voured crème anglaise.
Crème anglaise :
Bring the cream and milk to the boil. Beat the yolks with the sug­ar then add this to the mix­ture of cream and milk, whisk­ing con­stantly. Return to the heat in order to thick­en the cus­tard whisk­ing all the time and without bring­ing it back to the boil. Take off the heat and add the Pommeau. Leave to cool.
Arrange the hot fond­ant on a plate, and pour the crème anglaise around it. Serve accom­pan­ied by a glass of Pommeau.