Scallops, chicory confit and andouille with Pommeau
Recipe by Isabelle Plunion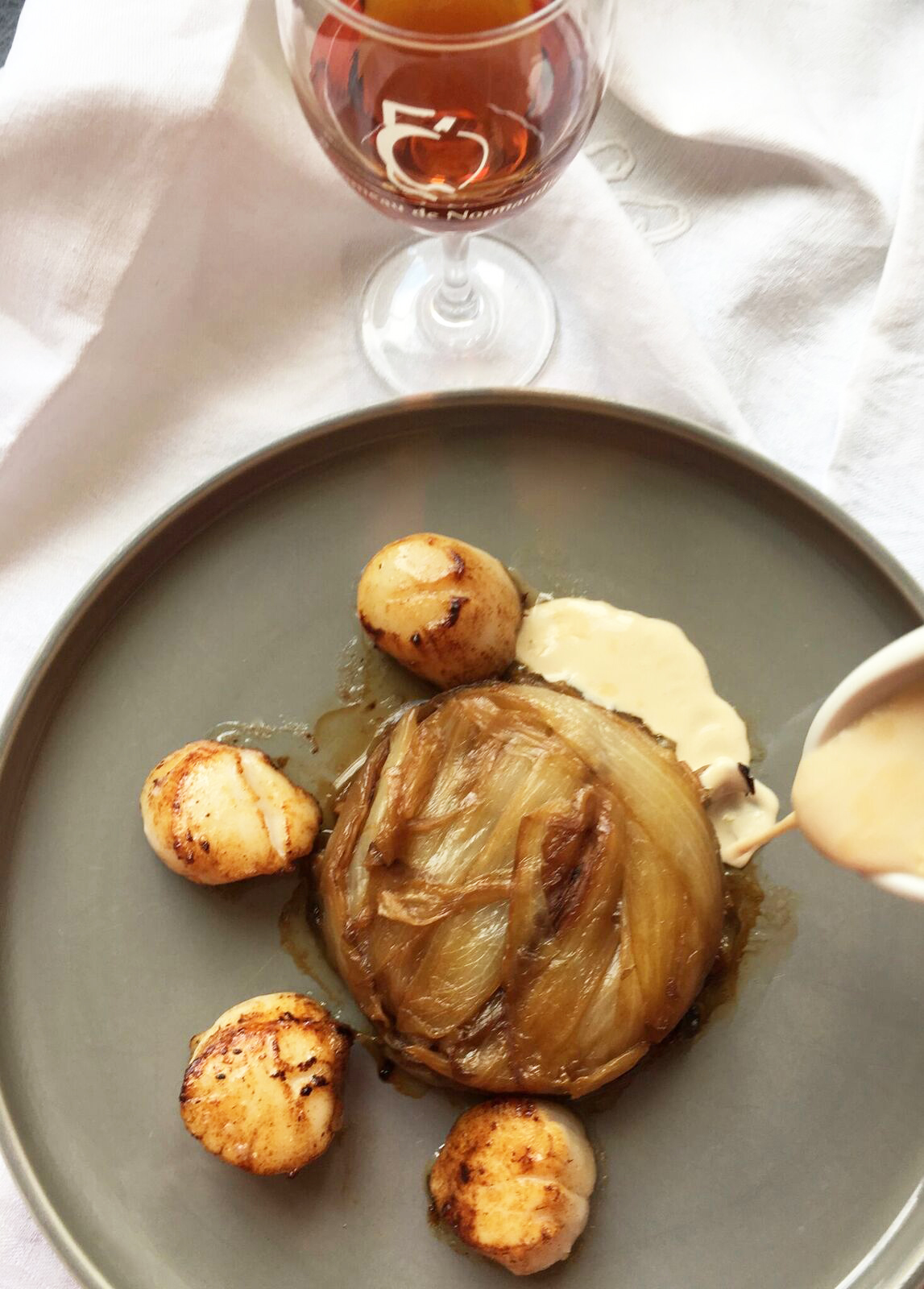 ingredients
Serves 4 people:
16 scal­lops
800 g chicory (Bel­gian endive)
100 g butter
15 cl Pommeau de Normandie
100 g homemade andouille
20 cl whip­ping cream
salt and pepper
fleur de sel
4 small (10cm x 4cm) moulds or ramekins
Melt the but­ter over a low heat, skim off the foamy white lay­er that has formed on top, leav­ing the whey at the bot­tom, set aside (cla­ri­fied but­ter can be heated to high­er tem­per­at­ures than uncla­ri­fied but­ter before it begins to burn).
Wipe the chicory heads with a piece of damp kit­chen roll, remove the out­er leaves and cut them length­wise into 4 or 6 pieces. Pour 2⁄3 of cla­ri­fied but­ter in a fry­ing pan and brown the chicory for 15 minutes turn­ing it often, sea­son with salt and pep­per. Add 10 cl of the Pommeau and leave it to evap­or­ate on the heat. Pre­heat the oven to 200°C. Lightly but­ter the moulds. Remove the skin from the andouille and cut it into small, very thin pieces. Place the chicory into the bot­tom of the moulds, then a few pieces of andouille and repeat the lay­ers fin­ish­ing with a lay­er of chicory. Press down the lay­ers using a spoon and cook in the oven for 20min.
Deglaze the fry­ing pan used for the chicory with the remain­ing 5 cl of Pommeau over a low heat, leave it to reduce by half and add the whip­ping cream and season.
Rinse the scal­lops, wipe them dry. Pour the remain­ing but­ter into the fry­ing pan and cook them in the hot but­ter for one minute on each side. Sprinkle with fleur de sel.
Remove the chicory con­fit from the moulds, plate the scal­lops whilst still hot, accom­pan­ied by the cream and Pommeau de Normandie sauce.