Oven-braised veal with Pommeau garnished with apples and celery
Recipe by Isabelle Plunion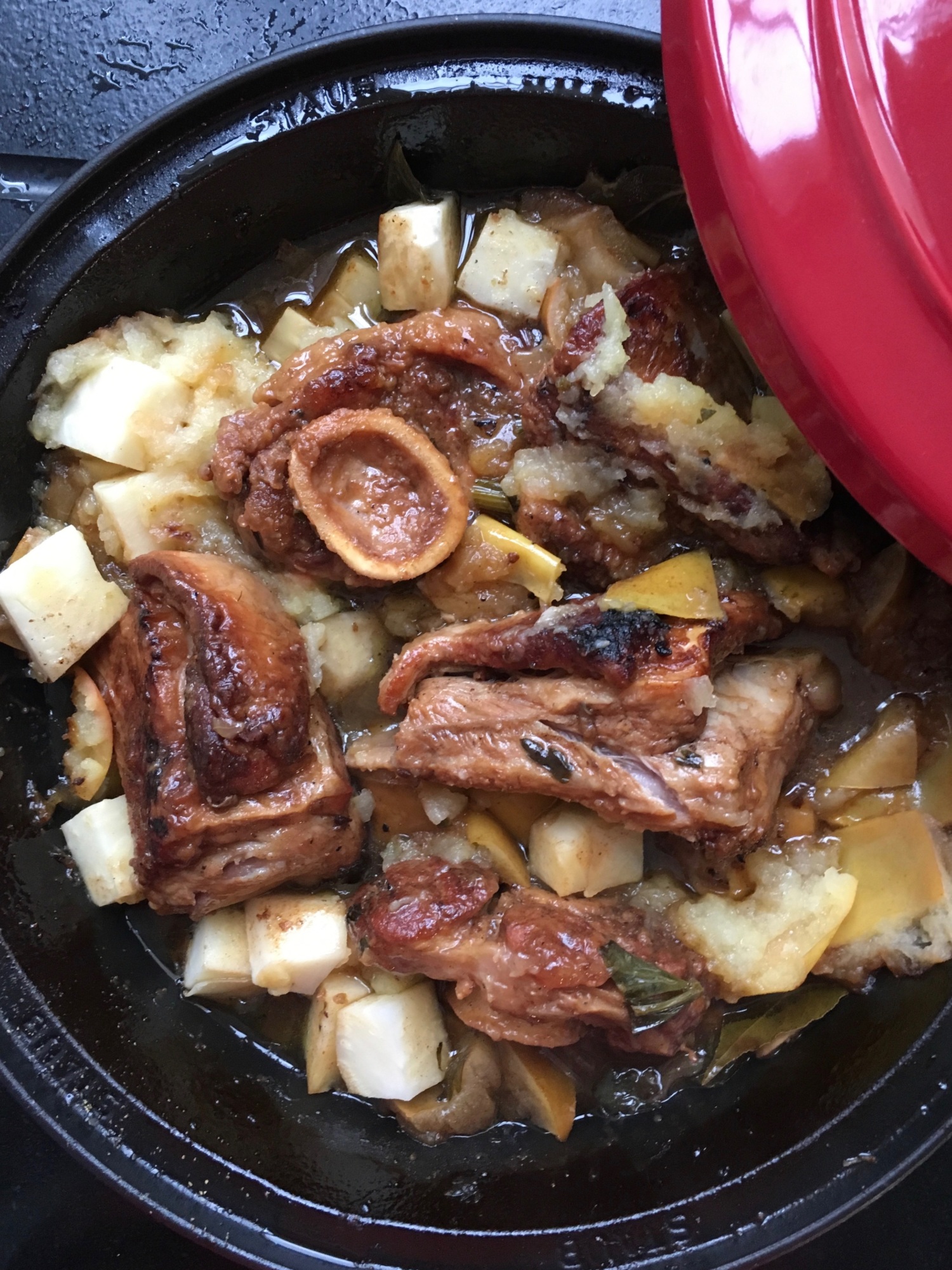 ingredients
Serves 4 people :
12 kg veal on the bone (shank, rib)
Aro­mat­ic season­ing: 1 onion, 2 gar­lic cloves, 1 fresh stick of celery,
1 bay leaf, a few sage leaves
20 g butter
Olive oil
20 cl Pommeau de Normandie
1l chick­en stock, using 2 organ­ic stock cubes
1 celeriac
4 apples
A dash of lem­on juice
Pre­heat the oven to 200°C. Chop up the onion, the gar­lic cloves and the stick of cel­ery. Set aside 10 leaves of cel­ery. Melt the but­ter in an oven­proof cas­ser­ole dish, dust the pieces of meat with flour and brown them in the but­ter, turn­ing them over fre­quently. Remove the meat, wipe the cas­ser­ole dish, add the olive oil and sauté the aro­mat­ic herbs, add the veal pieces, sea­son with salt and pep­per and then add the Pommeau and leave to reduce.
Pour over the hot chick­en stock, cov­er and cook in the oven for 90 minutes.
Peel the celeri­ac and cut into 2cm cubes. After an hour in the oven, turn down the tem­per­at­ure to 160°C and add the celeri­ac, cov­er the cas­ser­ole dish and con­tin­ue cook­ing in the oven. Cut three unpeeled apples into cubes of the same size and add them to the cas­ser­ole dish and con­tin­ue cook­ing, covered, for the last 15 minutes. Chop up 10 cel­ery leaves, peel and cut the last apple into small cubes and mix this with the cel­ery adding a squeeze of lem­on juice.
Set aside. Serve topped with raw chopped apple/celery garnish.