Duck breast served with a Pommeau and shallot confit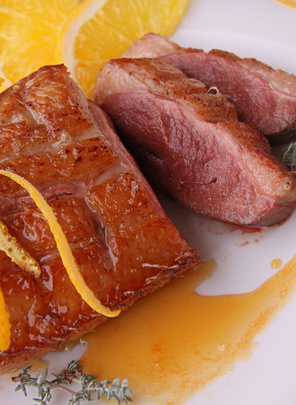 ingredients
Serves 2 people :
1 duck breast
3 shallots
Cit­rus fruit zest (orange or lemon)
20 cl Pommeau de Normandie
20 g butter
1 table­spoon aca­cia honey
Cut the zest into juli­enne strips and place them into a pan of cold water. Bring this to the boil, and repeat the pro­cess once more. Finely chop the shal­lots. Melt 20g but­ter with the shal­lots in a pan. Pour in 15 cl Pommeau de Normandie and leave it to con­fit slowly.
Score the skin of the duck breast. Pan fry each side, skin-side down first for about 10 min, and then 3 to 4 min on the oth­er side, after hav­ing poured off the fat.
Place it in the oven to keep warm. Deglaze the fry­ing pan with the remain­ing Pommeau and one table­spoon of aca­cia honey.
Serve the duck breast in slices with the shal­lot con­fit, the zest and the sauce. Accom­pany the dish with a parsnip or potato purée.