Chicken breast with Pommeau de Normandie sauce
Recipe by Adrien Luce (Chez Fano)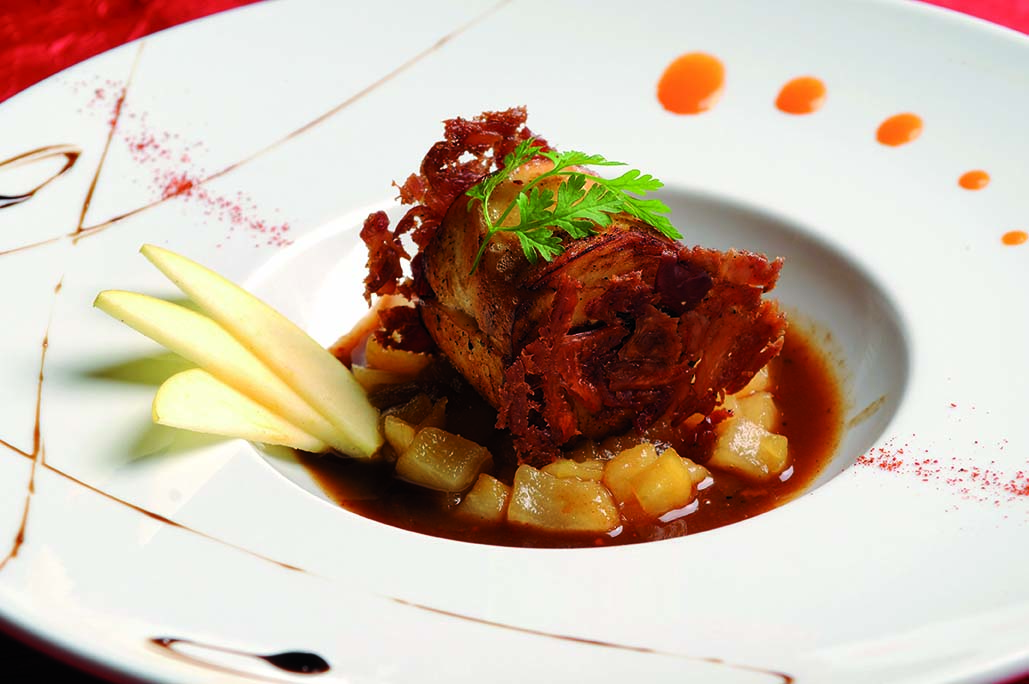 Pre­par­a­tion time: 20 min
Cook­ing time: 15 min
ingredients
6 chick­en breasts
6 apples
6 pears
500 g Andouille de Vire
50 cl Pommeau de Normandie
50 g sugar
50 g Isigny AOP butter
10 cl Cream of Balsamic
1 bunch chervil
Peel and dice the apples and pears into small cubes. Sweat them with a little but­ter and sug­ar in a deep fry­ing pan.
Halve the chick­en breasts length­wise without cut­ting right through, stuff each with a spoon­ful of cooked apples and pears, and then roll in cook­ing wrap to form a bal­lot­ine. Roll up the bal­lot­ines tightly and ensure that both ends of each one are prop­erly sealed. Bake in the oven at 200°C for 10 min.
Melt the but­ter in a pan and deglaze with Pommeau.
Cut the andouille cross­ways into fine slices and bake them between two sheets of greaseproof paper, in the oven at 200°C for 5 min.
Cut the chick­en into 3cm-thick slices, place them on a plate, pour over the Pommeau sauce. Arrange the andouille chips on the chick­en and dec­or­ate with chervil and cream of balsamic.