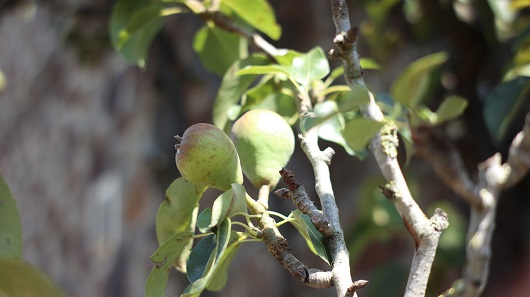 Pa
c

ory – Ferme
des Gri

m

aux
marques
Pacory – Ferme des Grimaux
Our products
Calvados Domfrontais, Cider, Perry, Pommeau de Normandie
adress
Les Gri­maux
61350 Mantilly
Opening hours
09:30–12:30 / 14:00–18:00
Contact
Catherine, Frédéric et Simon PACORY
Tél. : 02 33 30 12 06
pacory.fermedesgrimaux@gmail.com
www.pacory.eu
---
Languages spoken
French – English
In Normandy, in the heart of the Domfront region, the land of the pear, our family farm produces cider-based products originating from high stem orchards where the grass is grazed by our herd of Normandy cows.
The Paco­rys have been far­mers in the Dom­front region since the turn of the 18th cen­tu­ry. This Bocage coun­try­side is repu­ted espe­cial­ly for its pear trees, but also for its high stem apple trees, whose fruit is pro­ces­sed into cider, perry and Calvados. During the day, the cows graze in the orchards before retur­ning to the cow­shed to be milked.
The Pacroy family moved to the estate in 1939. In the face of the increase in inten­sive agri­cul­ture, Claude deci­ded to focus on, and per­fect, the pro­duc­tion of Calvados from 1959. This is when he star­ted to sell his pro­ducts in bottle.
Fré­dé­ric and Cathe­rine moved in in 1986. They conti­nued to craft qua­li­ty pro­ducts using the latest tech­niques and buil­ding their know­ledge of the dif­ferent varie­ties grown in their orchards. Their pro­ducts, par­ti­cu­lar­ly the Dom­fron­tais AOC Calvados and the Dom­front AOP Perry, regu­lar­ly pick up awards.
But that's not the end of the story ! Their son, Simon, joined the busi­ness in 2013, with the same know­ledge and pas­sion for the craft that has now been passed down over three generations.
Today, the fruit comes from the farm which extends over 140 hec­tares and includes 800 high stem pear trees and 400 high stem apple trees.