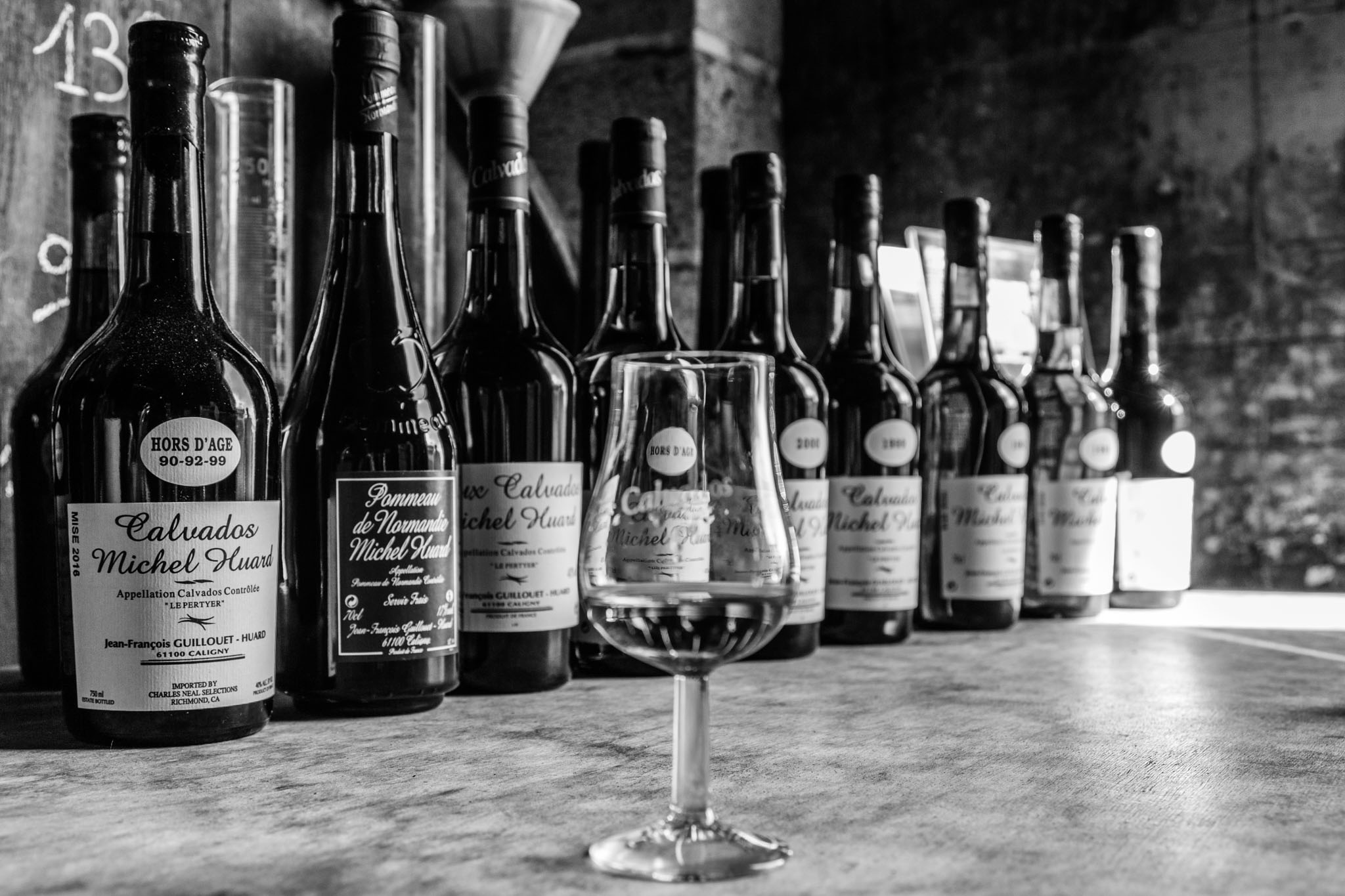 marques
Michel Huard
Our products
Calvados, Pommeau de Normandie
adress
La Grou­dière
61100 Montilly-sur-Noireau

Opening hours
9:00 ‑12:00 / 14:00–18:00
Contact
Jean-François Guillouet-Huard
Tél. : 02 33 96 41 87
calvadoshuard@wanadoo.fr
calvadoshuard.com
---
Languages spoken
French – English
Apple growers and producers of vintage Calvados for seven generations in the Orne Bocagev countryside.
The Huard family has been living in the vil­lages of Cali­gny and Mon­tilly sur Noi­reau, on the edge of the Suisse Nor­mande (in the sou­th­west of the Calvados depart­ment) for 7 gene­ra­tions. The set­ting is typi­cal of the Orne Bocage, with its hed­ge­rows, mea­dows, orchards, streams and stri­king schist and sand­stone houses.
The Huard farm ori­gi­nal­ly prac­ti­sed tra­di­tio­nal mixed agri­cul­ture with live­stock and plant crops.
Nowa­days, even though the cider-based pro­duc­tion, inclu­ding the AOC Calvados, is the main acti­vi­ty, the estate has pre­ser­ved a herd of free-roa­ming dairy cows to main­tain the 18 hec­tares of south-facing high stem orchards and meadows.
Proud of his Calvados and convin­ced that it deser­ved a place along­side the most pres­ti­gious "diges­tifs", Michel Huard, the grand­fa­ther of Jean-Fran­çois Guillouet-Huard, the estate's cur­rent owner, star­ted sel­ling his Calvados in Paris in the 1950s. The years have been and gone, but the phi­lo­so­phy of Maison Michel Huard has remai­ned the same : to pro­duce the highest qua­li­ty eau-de-vies, allo­wing time to do its work and inter­ve­ning as little as pos­sible in the pro­duc­tion pro­cess to enable the ter­roir to express itself to the full.
Fol­lo­wing in his grand­fa­ther Michel Huard's foots­teps from a very young age, Jean-Fran­çois Guillouet-Huard took over the family estate in 2004. Pas­sio­nate about his craft and proud to have inhe­ri­ted his grandfather's know­ledge, he is deter­mi­ned to honour the work of his pre­de­ces­sors. Qua­li­ty is still, and always will be, the cor­ners­tone of Maison Michel Huard's phi­lo­so­phy. Jean-Fran­çois has recent­ly ins­tal­led a new 300 m² cellar where he will age his Calvados for many years to conti­nue to pro­duce the highest qua­li­ty vin­tage Calvados for our drin­king enjoyment.
Today, through hard work and a love of the craft, Michel Huard Calvados are very highly regar­ded and the famous Vin­tage Calvados are served in the most pres­ti­gious esta­blish­ments in Paris and around the world.