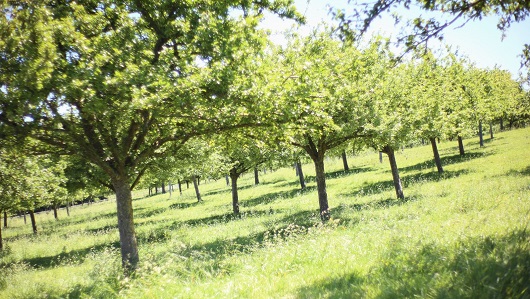 marques
Manoir de Montreuil
Our products
Calvados Pays d'Auge, Cider, Pommeau de Normandie
adress
Le Manoir
14340 Montreuil-en-Auge
Opening hours
Monday to Satur­day 9:00 – 12:30 / 14:00 – 18:30
Contact
Patrice Giard
Tél. : 06 88 50 95 27
giard.m@wanadoo.fr
A traditional family farm specialised in old AOC Pays d'Auge Calvados.
For 14 gene­ra­tions, the Manoir de Mon­treuil estate has been pro­du­cing AOP Pays d'Auge cider, Pom­meau de Nor­man­die, and a wide range of AOC Pays d'Auge Calvados, ran­ging from four years old to very old vin­tages from 1969 to 1989.
The farm is loca­ted 3 km from Cam­bre­mer. Visi­tors are wel­co­med in our shop loca­ted amid our high stem orchards through which our dairy cows graze.
All the pro­ducts are craf­ted using apples grown on the farm. We have conser­ved old varie­ties that are less pro­duc­tive but high in fla­vour. Our farm adheres fully to the AOC/AOP pro­duc­tion specifications.