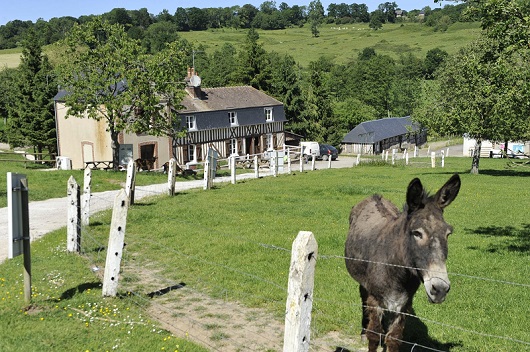 marques
Lieu Roussel
Our products
Calvados, Cider, Pommeau de Normandie
adress
Le Lieu Roussel
14430 Douville-en-Auge
Opening hours
From 10:00 to 19:00. Closed on Sundays
Contact
Eric Maertens
Tél. : 02 31 23 71 15
lieu-roussel@orange.fr
lieu-roussel.fr
---
Languages spoken
French – English
Surrounded by high stem orchards, through which cows graze, our farm is our place of work.
We are delighted to receive visitors to show them the work on our farm and the origin of our products.
The farm has been open to visi­tors for ungui­ded or guided tours since 1995. It is loca­ted just 10 minutes drive from the sea (Houl­gate and Cabourg).
Our edu­ca­tio­nal farm is home to all the types of farm ani­mals (don­keys, cattle, pigs, sheep and poul­try). The visits do not have a set length (they gene­ral­ly take 60–90 minutes) and you can picnic on-site on one of our picnic tables.
We have been making cider-based pro­ducts since 1991. Our pro­ducts have been cer­ti­fied orga­nic since 2013. The apple har­vest and the orga­nic cider-making, which you are wel­come to come along and watch, take place in the autumn.
Bed and break­fast (tra­di­tio­nal half-tim­be­red house) is avai­lable as well as a gîte and a campsite.
Our farm shop stock all our pro­ducts as well as those of the neigh­bou­ring pro­du­cers (dairy pro­ducts, jams, ter­rines, and honey from our own hives).
To visit us, follow signs to the La Forge lieu-dit, loca­ted bet­ween Dozulé and Anne­bault, then head towards Dou­veille-en-Auge and you will see our farm on the right. The farm can easily be loca­ted by typing "Lieu Rous­sel" into your SatNav.