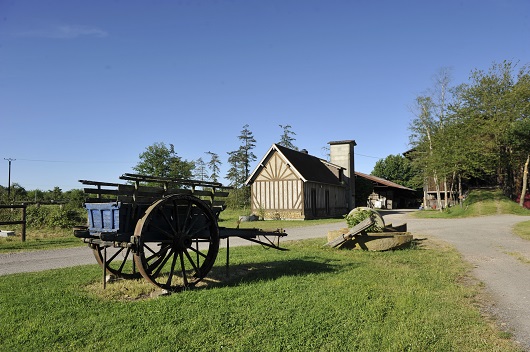 marques
Les Vergers du Chouquet
Our products
Calvados, Cider, Perry, Pommeau de Normandie
adress
Les Bois
61120 Roiville
Opening hours
From March to Sep­tem­ber ; Monday to Satur­day 14:00 – 18:00
Contact
Christophe Aguinet
Tél. : 06 75 51 34 63
vergers.du.chouquet@wanadoo.fr
---
Languages spoken
French – English
The Vergers du Choquet cider works crafts AOC/AOP products on their farm located on the Pays d'Auge hillsides. They are committed to an extensive and traditional type production.
On their farm nest­led in the heart of the "Pays du Camem­bert" in the Pays d'Auge area, the Agui­net family is renow­ned for the excep­tio­nal qua­li­ty of their cider apples which they grow on 19 hec­tares of high and low stem orga­nic orchards made up of around 30 varieties.
We pro­cess our pro­duc­tion into cider, perry, Pom­meau de Nor­man­die, Calvados, apple juice, spark­ling apple juice, pear juice, cider vine­gar (reco­gni­sed for its bene­fi­cial pro­per­ties) and cider and perry jellies.
Our pro­ducts regu­lar­ly pick up awards in various com­pe­ti­tions, inclu­ding the Salon de l'Agriculture and the Normandy Ciders com­pe­ti­tion, and can be found in wine stores, crê­pe­ries, deli­ca­tes­sens, local pro­duce shops, res­tau­rants and at shows.