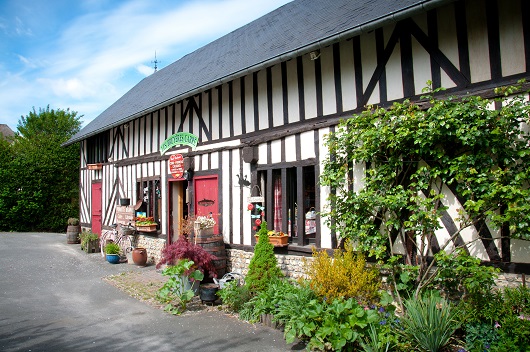 marques
Les Bruyères Carré
Our products
Calvados, Cider, Perry, Pommeau de Normandie
adress
Route de Lieu­rey – D 143
14590 Moyaux
Opening hours
See ope­ning times on website
or by appointment
Closed on Sundays
Contact
Benoit Charbonneau
Tél. : 02 31 62 81 98
cidre.charbonneau@wanadoo.fr
www.les-bruyeres-carre.fr
---
Languages spoken
French – English
Handed down from generation to generation, the Les Bruyères Carré farm located in Moyaux, in the Calvados department, is an authentic Normandy Pays d'Auge cider farm that is really worth a visit !
Our family-run farm is loca­ted in Moyaux, in the heart of the Pays d'auge, 4 km from Cor­meilles and 15 km from Lisieux. The orchards, that can be visi­ted all year round, are popu­la­ted by high stem and low stem apple trees. They include around 10 Pays d'Auge apple varie­ties (Bis­quet, Fre­quin Rouge, Bedan, Saint-Martin, etc.).
It is impor­tant to choose the right apple varie­ties if you wish to craft high-qua­li­ty cider. Each varie­ty has its own pro­per­ties and the per­fect balance is achie­ved through the blen­ding of the dif­ferent varie­ties. All of the pro­duc­tion is pro­ces­sed on the farm.
Well-situa­ted orchards, rigo­rous fruit selec­tion, as well as pro­duc­tion and sto­rage tech­niques that com­bine tra­di­tio­nal and modern methods gua­ran­tee pro­ducts of the highest pos­sible quality.
We have a gîte avai­lable for rental. Known as "La Cabane du Pêcheur" (the fisherman's hut), it is loca­ted near the farm and sleeps 11. We also have an area set up in the orchards that is ideal for moto­rhome parking.