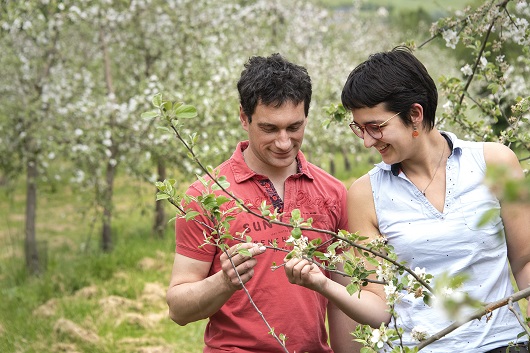 marques
Le Lieu Chéri
Our products
Calvados Pays d'Auge, Cider, Perry, Pommeau de Normandie
adress
20 Route de Coquainvilliers
14100 Ouilly-le-Vicomte
Opening hours
Monday to Satur­day : from 9:00 to 12:00 and from 14:00 to 19:00
Contact
Alexandre et Pauline Desfrièches
Tél. : 02 31 61 11 71
contact@lelieucheri.fr
www.lelieucheri.fr
---
Languages spoken
French
Alexandre and Pauline work with great passion and a desire to practice their craft as naturally and respectfully as possible, in keeping with four generations of savoir-faire.
The Des­frièches family has been craf­ting deli­cious pro­ducts at Le Lieu Chéri for four gene­ra­tions. The estate com­prises 17 hec­tares of orchards, com­po­sed mainly of high stem trees. The apples are trans­for­med into a varie­ty of pro­ducts so there is some­thing for eve­ryone : apple juices, ciders, vine­gars, Pom­meau de Nor­man­die, Pays d'Auge Calvados, jel­lies… there is also a shop on the estate sto­cking all the pro­ducts made on the farm, as well as those of neigh­bou­ring pro­du­cers inclu­ding beers, oils, ter­rines, dulce de leche…
The estate is loca­ted bet­ween Lisieux and Pont l'Evêque in the heart of the Pays d'Auge, The tra­di­tio­nal Normandy farm­house is sur­roun­ded by apple trees and offers a brea­th­ta­king view over the Touques valley. There is a large car park, where visi­tors can admire the land­scape, enjoy a picnic or even park their moto­rhomes overnight.
The estate is open to visi­tors all year round (by appoint­ment). You can come and learn all about its pro­duc­tion pro­cesses and visit the press, the cel­lars, the still and the barrel halls… roun­ding the tour off with a tas­ting. The length of the tour is tai­lo­red to the visi­tors' inter­ests or avai­lable time.
Bed and break­fast for one or more nights is also available.