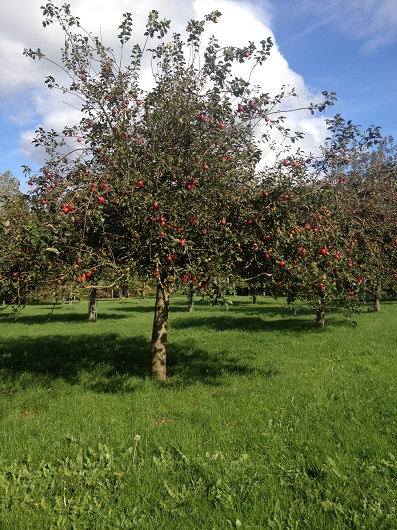 marques
Gaec de Claids
Our products
Calvados, Cider, Pommeau de Normandie
adress
38, le Chemin Perrey
50190 Saint-Patrice-de-Claids
Opening hours
Every Friday afternoon from 14:00 to 18:30.
Also on Tuesday afternoons in July and August.
Contact
Alain Dauget
Tél. : 06 30 04 42 25
gaec-de-claids@sfr.fr
---
Languages spoken
French - English
Producer of cider and cider-based products, the GAEC de Claids farm is situated in the Le Cotentin area of Normandy.
Created in 1992, the GAEC, "groupement d'exploitation en commun" [joint farming syndicate], is made up of three partners: Alain Dauget, Vincent August and Emmanuel Legardinier.
From the beginning, we have kept a herd of dairy cows on the farm for their milk and beef. As there were orchards on the farm and we are committed to preserving our heritage, we decided to develop our cider-based production.
Our orchards, located 10km from the sea, on the west coast of Le Cotentin, were planted in 1992, 1996 and 2006 taking account of the dominant westerly winds when choosing the plots and planting windbreak hedges.
The quality of our products has been recognised by numerous awards received in agricultural competitions, especially for our AOP (PDO) Cotentin cider, which is naturally sparkling and crafted from 100% pure juice.
We enjoy a reputation as a high-quality farm producer in Le Cotentin and throughout Normandy.