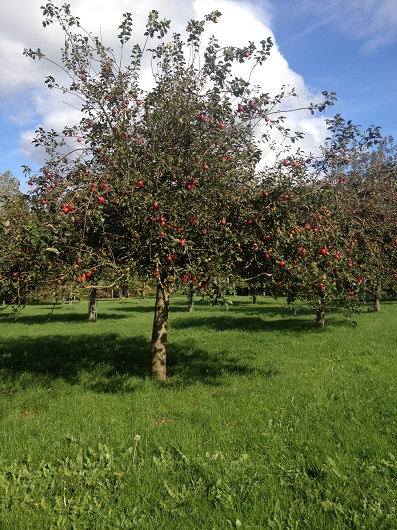 marques
Gaec de Claids
Our products
Calvados, Cider, Pommeau de Normandie
adress
38, le Chemin Perrey
50190 Saint-Patrice-de-Claids
Opening hours
Every Friday after­noon from 14:00 to 18:30.
Also on Tues­day after­noons in July and August.
Contact
Alain Dauget
Tél. : 06 30 04 42 25
gaec-de-claids@sfr.fr
---
Languages spoken
French – English
Producer of cider and cider-based products, the GAEC de Claids farm is situated in the Le Cotentin area of Normandy.
Crea­ted in 1992, the GAEC, "grou­pe­ment d'exploitation en commun" [joint far­ming syn­di­cate], is made up of three part­ners : Alain Dauget, Vincent August and Emma­nuel Legardinier.
From the begin­ning, we have kept a herd of dairy cows on the farm for their milk and beef. As there were orchards on the farm and we are com­mit­ted to pre­ser­ving our heri­tage, we deci­ded to deve­lop our cider-based production.
Our orchards, loca­ted 10km from the sea, on the west coast of Le Coten­tin, were plan­ted in 1992, 1996 and 2006 taking account of the domi­nant wes­ter­ly winds when choo­sing the plots and plan­ting wind­break hedges.
The qua­li­ty of our pro­ducts has been reco­gni­sed by nume­rous awards recei­ved in agri­cul­tu­ral com­pe­ti­tions, espe­cial­ly for our AOP (PDO) Coten­tin cider, which is natu­ral­ly spark­ling and craf­ted from 100% pure juice.
We enjoy a repu­ta­tion as a high-qua­li­ty farm pro­du­cer in Le Coten­tin and throu­ghout Normandy.