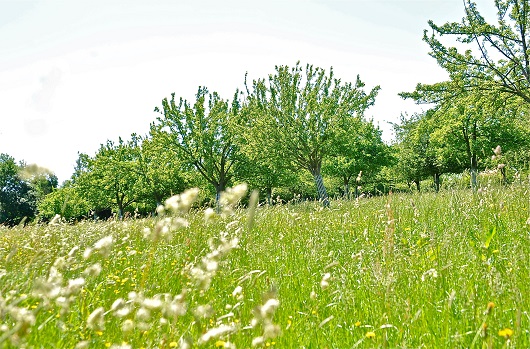 Ferme de la Va
l

lée
au T

a

nneur
marques
Ferme de la Vallée au Tanneur
Our products
Calvados, Cider, Perry, Pommeau de Normandie
adress
Chemin de la vallée au tanneur
14340 Repentigny
Opening hours
Every day from 1 April to 15 Sep­tem­ber from 9:00 to 19:00.
From 16 Sep­tem­ber to 30 March : accor­ding to owners" pre­sence on-site or by appointment.
Contact
Ginette Cenier
Tél. : 02 31 64 38 69
getjl.cenier@wanadoo.fr
ferme-vallee-tanneur.pagesperso-orange.fr
---
Languages spoken
French – English
A traditional organic farm, where Normandy cows graze under the high stem apple trees.
Ginette and Jean-Luc Cenier took over the dairy pro­duc­tion and apple tree orchards from Ginette's parents in 1994. Cider pro­duc­tion began short­ly after and has conti­nued to grow ever since.
The Ferme de la Vallée au Tan­neur is typi­cal of the Pays d'Auge with 80 hec­tares of mea­dow­land, inclu­ding 12 hec­tares of high stem orchards, through which 40 Normandy cows can be found gra­zing (it's like a pic­ture post­card of Normandy!)
We pro­duce a range of AOC orga­nic pro­ducts using tra­di­tio­nal methods. AOP (PDO) Pays d'Auge cider, Pom­meau de Nor­man­die, Calvados, as well as other high-qua­li­ty pro­ducts : cider vine­gar, apple and pear juice. Our pro­ducts regu­lar­ly pick up awards in local competitions.
The farm is situa­ted on the Route du Cidre (Cider Route,) near Cam­bre­mer. It is typi­cal of the region and is a great place to come for a walk bet­ween April and Sep­tem­ber. During this period, Ginette or Jean-Luc are happy to wel­come you for a tour and/or a tas­ting of their dif­ferent pro­ducts in a convi­vial, family atmosphere.
Our farm shop also sells local­ly pro­du­ced honey and raw milk cheese (Camem­bert, Pont L'evêque, Livarot).
We have space for moto­rhomes with free par­king for one night.