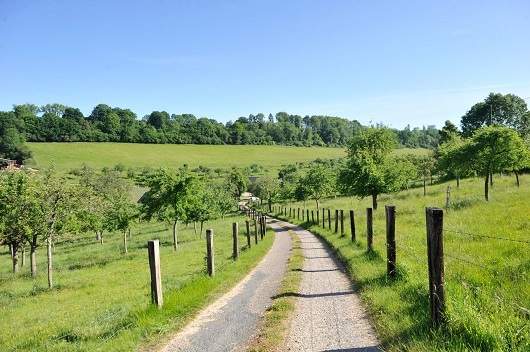 marques
Ferme de Cutesson
Our products
Calvados, Cider, Perry, Pommeau de Normandie
adress
Lieu-dit Cutes­son – Route de Gacé
61120 Vimoutiers
Opening hours
9 : 00–12 : 00 and 14 : 00–18 : 00
Please call ahead if possible.
Contact
Ginette et Emmanuel SCHREIBER
Tél. : 06 85 33 65 44
fermedecutesson@orange.fr
---
Languages spoken
French
This 65-hectare family farm has been worked organically since 1996. We sell all our products through short distribution channels : four markets a week (two of which are organic, in the Côte Fleurie), direct from the farm, at shows, through organic specialist shops, cafés, hotels, restaurants and small food stores.
Cutes­son is a lieu-dit (small loca­li­ty) in Vimou­tiers, in the south of the Pays d'Auge, set in the green valley of the River Vie. The farm is loca­ted on the D979 just out­side Vimou­tiers, on a small road that we take, under the "Char Tigre" car park. A long dri­ve­way sur­roun­ded by high stem apple orchards with ani­mals gra­zing through them takes you to the farm.
Coaches can easily access the farm and can turn around in the courtyard.
All of the cellar's acti­vi­ty is contai­ned under one roof : the press, the tanks, the cellar and the storage.
We wel­come groups of up to 30–40 people by appoint­ment. For indi­vi­dual visits, we would ask you to call us before dri­ving to the farm as we are not always on-site due to mar­kets, deli­ve­ries, work in the orchards, etc.
The 60-minute tour starts with an intro­duc­tion to the farm (its size, apple varie­ties, our deci­sion to work orga­ni­cal­ly since 1996, etc.), fol­lo­wed by a visit to see the press, the tank hall, the bot­tling line, the ware­house and label­ling faci­li­ties. We will also tell you about our beef pro­duc­tion acti­vi­ty, our local dis­tri­bu­tion chan­nels and the pro­ces­sing of the meat into ready-made meals….
The tour will be roun­ded off by a video on cider pro­duc­tion and a tas­ting of our products.