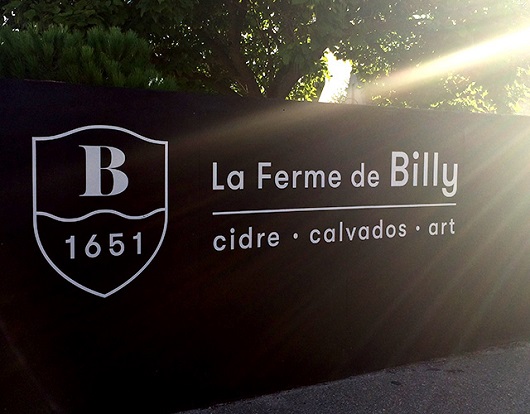 marques
Ferme de Billy
Our products
Calvados, Cider, Pommeau de Normandie
adress
26 Bis rue de l'Eglise St Ouen
14980 Rots
Opening hours
Tues­day, Wed­nes­day from 10:00 to 12 : 30 and from 14:00 to 18:00
Thurs­day to Sunday from 10:00 to 17:00
Summer ope­ning hours : please check on the website.
Contact
Olivier Vauvrecy
Tél. : 02 31 26 28 53
contact@ferme-de-billy.com
www.ferme-de-billy.com
---
Languages spoken
French – English – Spanish
The Ferme de Billy is a brand, a place and a family spirit : authenticity, conviviality, respect for nature and local Normandy traditions, where everyone is welcome, young and old.
Loca­ted in the heart of the com­mune of Rots, the Ferme de Billy has become a true "lieu-dit" in the vil­lage. It boasts over 15,000 apple trees and a buco­lic set­ting with orchards, don­keys, a stream and a small 12th-cen­tu­ry chapel that is part of the estate.
In 2013, Oli­vier and Guillaume Vau­vre­cy took over the busi­ness from their father, Henri, aware that they would be per­pe­tua­ting a valuable family legacy. Pre­fer­ring to focus on the qua­li­ty of the fruit rather than volume, they are com­mit­ted to sus­tai­nable far­ming and to pre­ser­ving the natu­ral environment.
Having resul­ted in nume­rous awards, their savoir-faire is reco­gni­sed by the res­tau­rant and bar indus­try and their pro­ducts are found in the finest res­tau­rants, deli­ca­tes­sens and top bars.
In addi­tion to their work crea­ting a highly inno­va­tive range of cider-apple based pro­ducts, Oli­vier and Guillaume are great art lovers and the estate gives them a large "play­ground" that they like to share with other artists.
This farm, set in a unique and enchan­ting set­ting, is open to visitors.