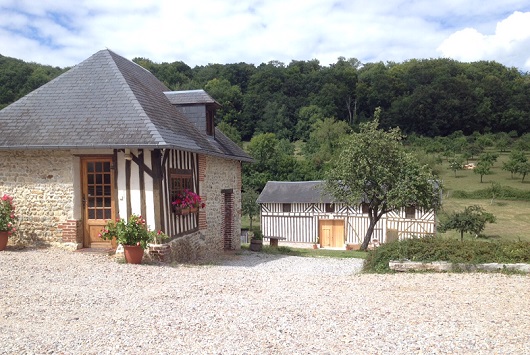 marques
Domaine des 5D
Our products
Calvados Pays d'Auge, Cider, Perry, Pommeau de Normandie
adress
Chemin de Manerbe
14100 Ouilly-le-Vicomte
Opening hours
From 14:00 to 17:30 from Monday to Friday
Contact
Ghislaine Davy
Tél. : 02 31 62 29 84
commandes@cidreriedaufresne.fr
www.cidreriedaufresne.com
---
Languages spoken
French – English
Domaine des 5D is located in the heart of the Pays d'Auge, just outside Lisieux and its famous basilica. It sits at the foot of its hillside orchards, in a spot formerly known as the Pré des Vignes, in reference to the vines once grown there.
This won­der­ful sou­thern expo­sure lends a full fla­vour to the orchard's dif­ferent apple varie­ties, used to craft the cider farm's products.
On his reti­re­ment, Mr Dau­fresne handed the reins of the estate to Ghis­laine Davy, who embar­ked on a policy of craf­ting high-qua­li­ty, ele­gant pro­ducts, while remai­ning res­pect­ful of nature and pro­hi­bi­ting the use of all phy­to­sa­ni­ta­ry pro­ducts on the trees.
The cider farm is open to visi­tors on week­day after­noons. You can come along and learn more about our pro­duc­tion, taste and buy our pro­ducts, and watch the dif­ferent stages of har­ves­ting and fer­men­ting the apples, mainly during the pro­duc­tion season, bet­ween Octo­ber and November.