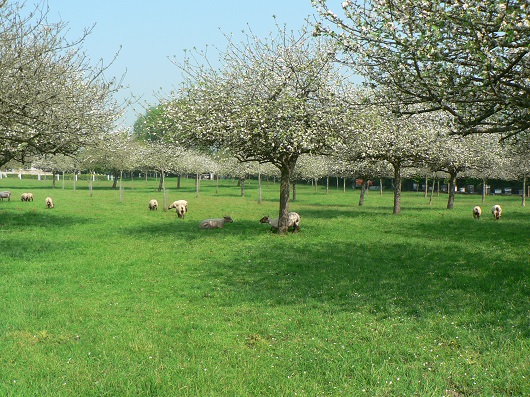 marques
Domaine de Rugueville
Our products
Calvados, Cider, Pommeau de Normandie
adress
1 Les Hougues
50580 Portbail
Opening hours
Tours from April to September by appointment
Contact
Nicolas Flambart
Tél. : 06 61 40 04 22
nicolas.fl@wanadoo.fr
www.domainederugueville.fr
---
Languages spoken
French
Nicolas Flambard, grower and producer in Portbail, Normandy, sells his apple-based products on the estate. These include cider, Pommeau, Calvados, apple juice, apple cider vinegar…
As these beverages are produced using careful craft methods, some boast certifications such as AOP Contentin Cider or organic apple juice.
As on many farms in Normandy, passing on savoir-faire is part of the tradition. It was therefore only natural that Nicolas Flambard would take over the business created by his father, Christian, in 2017. In the 90s, Christian had acquired 5 hectares of farmland surrounding the house, which marked the beginnings of the farm. Apple trees were planted: high stem and low stem trees of different traditional cider apple varieties, and he began producing crat cider, Pommeau and Calvados. In 2009, Christian converted the farm to organic agriculture. He installed birds nests for tits, introduced ladybirds to avoid the use of pesticides, and set up beehives to pollinate the apple trees. Today, Nicolas is at the helm of the farm which continues to respect tradition, nature and consumers. Domaine de Rugueville is one of around ten Normandy producers who produce AOP (PDO) Cotentin cider. This craft cider made from local varieties has a distinct terroir flavour which is slightly bitter and tart. It is 100% pure juice and naturally sparkling, without the addition of gas or any pasteurisation.