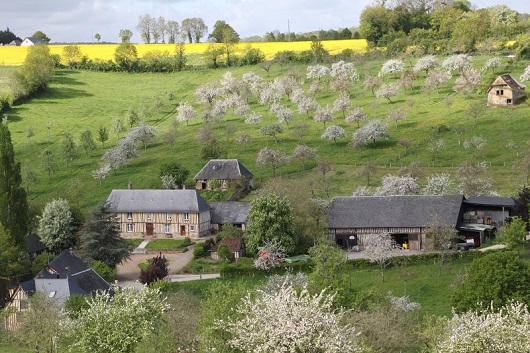 marques
Domaine de la Galotière
Our products
Calvados, Calvados Pays d'Auge, Cider, Perry, Pommeau de Normandie
adress
La Galotière
61120 Crouttes
Opening hours
Monday to Saturday from 9:00 to 12.00 and from 14:00 to 18:00
Contact
Nathalie et Jean-Luc Olivier
Tél. : 02 33 39 05 98
Fax. : 02 33 67 57 68
lagalotiere@free.fr
www.lagalotiere.fr
---
Languages spoken
Français – Anglais
This family estate in the traditional setting of the Pays d'Auge has been worked organically since 1997. Dating back to the 17th century, Domaine de la Galotière combines tradition and innovation, in both its buildings and products. The estate has picked up medals at numerous competitions.
Domaine de la Galotière was bought by Claude and Janine Olivier in 1963. At the time, it was a grassland farm like many in the Pays d'Auge, combining dairy farming and apple production. Claude Olivier started producing cider and Calvados in the early 80s. In 1991, his son, Jean-Luc, joined his parents and developed the cider producing activity, soon specialising in Pay d'Auge AOP (PDO) ciders. In 1997, the estate started its conversion to organic growing and is now one of the only producers to be able to offer organic Calvados of over 10 years of age.
We produce a large range of Pays d'Auge ciders, with special cuvées to suit all tastes, as well as Pays d'Auge Calvados from 3 to over 20 years of age, as well as Pommeau de Normandie that regularly wins medals at the Concours Général Agricole (Prize of Excellence in 2018). As pretty as a postcard, the family farm boasts 45 hectares of orchards and processes all its apples and pears on site. It grows about 50 varieties of apple, some of which are only found in the Vimoutiers area.
We create natural, authentic and innovative products and export 15% of our production to 10 or so countries.
Please get in touch should you require further information or come along to meet us if you can.