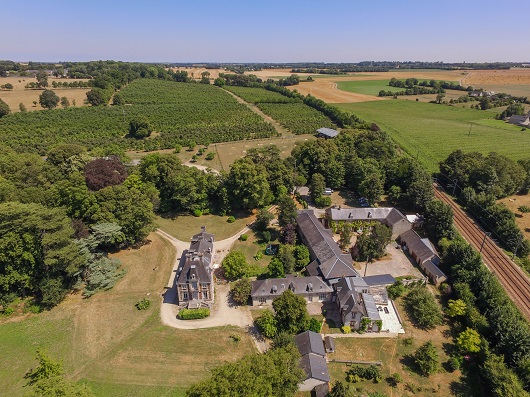 marques
Domaine de la Flaguerie
Our products
Calvados, Cider, Pommeau de Normandie
adress
Rue du Lieu Moussard
14250 Ducy Sainte-Marguerite
Opening hours
April to Sep­tem­ber : every day from 9.00 to 12.30 / from 14.00 to 18.00
Octo­ber to March : every day except Sunday from 9 : 00 – 12:30 / 14:00 – 18:00
Contact
René Pétrich
Tél. : 02 31 80 28 65
Fax. : 02 31 80 20 01
lesvergersdeducy@wanadoo.fr
www.lesvergersdeducy.fr
---
Languages spoken
French – English – Spanish – German
Domaine de la Flaguerie is a family farm located in the Bessin region of Normandy since 1835. Our orchards are managed organically and we process our apples into the traditional local products.
A family farm crea­ted in 1835, Domaine de la Fla­gue­rie is loca­ted in the Bessin region of Normandy, a region with nume­rous tou­rist attrac­tions inclu­ding Bayeux and its tapes­try, the Normandy lan­ding beaches and the Caen Memo­rial. The mea­dows are plan­ted with apple trees for the pro­duc­tion of cider, Pom­meau de Nor­man­die and Calvados on the farm.
Today, René Petrich has more than 40 hec­tares of orchards that have been mana­ged orga­ni­cal­ly for over 20 years. Their high stem and low stem apple trees grow on well-expo­sed clay-limes­tone hil­l­sides in shal­low soil. This typi­cal Bessin ter­roir has proven to be very sui­table for orga­nic agri­cul­ture, of which it was one of the pio­neers. René's focus is first and fore­most on the qua­li­ty of his apples, as well as main­tai­ning his modern pro­duc­tion faci­li­ties that gua­ran­tee a fruit pro­ces­sing of high quality.
We are deter­mi­ned to pro­tect our tra­di­tions and nature and we manage our orchards orga­ni­cal­ly. These orchards give us over 700 tons of apples each year for the pro­duc­tion of our Calvados, Pom­meau de Nor­man­die, ciders, apple juices, apple cider vine­gars and apple jellies.
We care­ful­ly select ciders for dis­til­la­tion that will allow us to offer connois­seurs farm-dis­til­led Calvados aged in the finest oak bar­rels, where they acquire finesse and round­ness. They are selec­ted by our cellar master with the assis­tance of our best and most expe­rien­ced tasters.
Our Pom­meau de Nor­man­die is craf­ted from a selec­tion of orga­nic apples using our savoir-faire in what is known as "mutage" which consists of mixing cider apple juice and Calvados. Aged tra­di­tio­nal­ly in old oak bar­rels, our Pom­meau de la Fla­gue­rie acquires a remar­kable taste and colour.
Our farm is open to visi­tors all year round. We pro­vide a 90-minute guided tour (from Monday to Friday, at 10:30 and 15:30) or you can take a self-guided tour. These are fol­lo­wed by a tas­ting of our pro­ducts in our shop. Our farm is ideal­ly loca­ted for those wishing to visit Caen (15 minutes) and Bayeux (10 minutes).
The Domaine can be rea­ched by car or bus from Caen or Bayeux, via the RN13, exit Lou­celles D148b, Mar­tra­gny Car­ca­gny and then follow the signs.
Through its net­work of part­ners, Domaine de la Fla­gueire is able to recom­mend the best places in the area – hotels, chambres d'hôtes, res­tau­rants, bars, local acti­vi­ties. For fur­ther infor­ma­tion, check out our web­site ww.lesvergersddeducy.fr or contact us on Tel +33 (0)2.31.80.28.65.