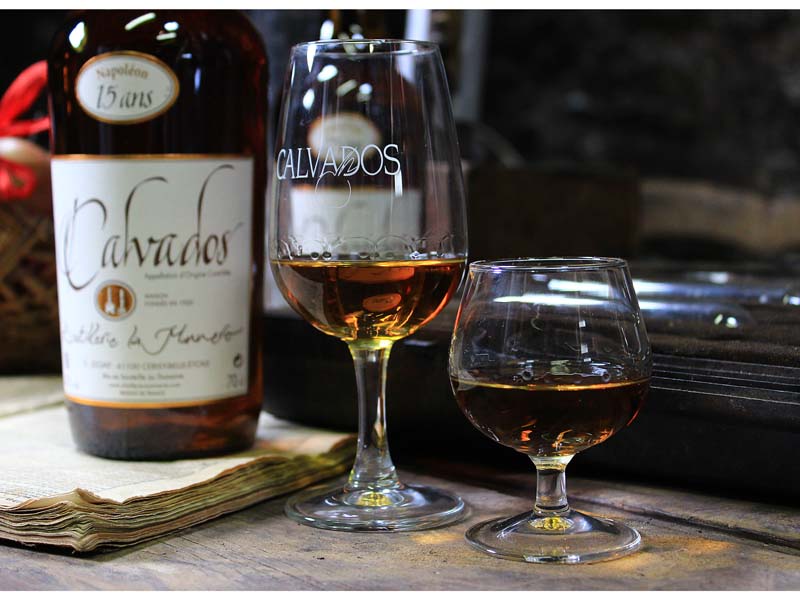 marques
Distillerie La Monnerie
Our products
Calvados, Cider, Pommeau de Normandie
adress
La Mon­ne­rie
61100 Cerisy-Belle-Etoile
Opening hours
09:00 to 19:00 from Monday to Saturday.
Closed on Sun­days and public holidays
Contact
Isabelle Legay
Tél. : 02 33 66 39 07
didier.legay3@wanadoo.fr
www.distillerie-monnerie.com
---
Languages spoken
French – English
The moment you enter our cellars, the odour interrogates you : should you stay quiet and just taste, or speak up and share ? Come and partake in an authentic experience in which you will learn all about the production of AOC Calvados in our cellars that are home to 100-year-old casks.
The his­to­ry of Maison Legay, that sits tucked away in the heart of the Orne Bocage in Normandy, is the story of a family who has been dis­til­ling since 1920. Dis­til­le­rie La Mon­ne­rie is spe­cia­li­sed in the pro­duc­tion of old Calvados, cider and Pom­meau. The dis­til­le­ry wel­comes visi­tors to its cel­lars in Cerisy-Belle-Etoile, at the foot of the Mont de Cerisy, in the Suisse Nor­mand area of Normandy where it has been loca­ted for three gene­ra­tions. We very much value our envi­ron­ment and our ter­roir of hed­ge­rows, mea­dows and orchards.
Our grand­fa­ther, Constant, was the person who star­ted it all. Born in 1891, Constant had a strong per­so­na­li­ty and a great appe­tite for life. A man with an inqui­ring mind and very much ahead of his time, he deci­ded to acquire some land on which to plant an orchard of apple trees and to start dairy far­ming. Our father, Rémy, took over from him in 1960, along with his wife Suzanne, who would ensure a smooth han­do­ver to their son.
Didier Legay, Constant's grand­son, helped by his wife Isa­belle, farms the land in Cerisy-Belle-Etoile and conti­nues the tra­di­tion of Calvados pro­duc­tion using the same still, which is over 100 years old and a wit­ness to the lives of our forefathers.
Today, our orchards extend over 13 hec­tares, on acidic silty soil, and we have two types : tra­di­tio­nal high stem trees (under which the cows graze pea­ce­ful­ly) and low stem trees where the grass is regu­lar­ly mown.
We still prac­tice mixed agri­cul­ture with dairy pro­duc­tion. As our two sons are now wor­king with us on the farm, the fourth gene­ra­tion is alrea­dy lined up to take over.
How lucky we are to be wor­king as a family and to hand down this shared love of the land, from father to son. Each gene­ra­tion has been able to trans­mit this family pas­sion and heri­tage which is reflec­ted in the style and taste of our Calvados. Each has its own per­so­na­li­ty, com­plexi­ty and temperament.
Our Calvados is aged in French oak bar­rels, crea­ting a constant exchange bet­ween the eau-de-vie, the wood and the air, and thus deve­lo­ping won­der­ful­ly deli­cate and rich woody aromas in the Calvados.
We have a large selec­tion of Calvados in our cellar, from the frui­tiest to the oakiest.
Come along and explore our world, where our family has been deve­lo­ping its savoir-faire and ensu­ring the qua­li­ty of its pro­ducts since 1920.
The tour is always conduc­ted by one of the esta­te's mana­gers to ensure you hear from someone with real know­ledge about our pro­duc­tion processes.