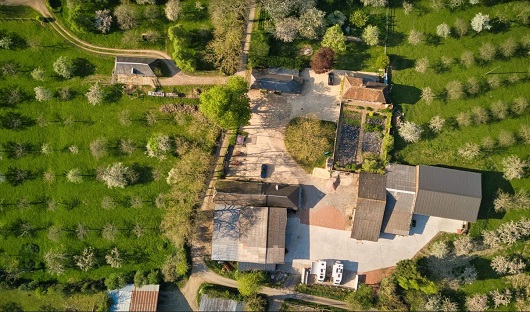 marques
Desvoye cider farm
Our products
Calvados, Cider, Perry, Pommeau de Normandie
adress
Chemin de la Cour aux Gris
14340 Beaufour-Druval
Opening hours
Every day from April to Sep­tem­ber from 9:30 to 12:30 / from 14:00 to 19:00.
From Octo­ber to March from Monday to Satur­day 9:30 to 12:30 / from 14:00 to 19:00.
(Sun­days by appointment)
Contact
Vincent Meilhac et Géraldine Desvoye
Tél. : 02 31 65 11 94
cavedesvoye@gmail.com
www.cidre-calvados-desvoye.fr
---
Languages spoken
French
A third-generation family-owned farm that blends authenticity with modernity.
The Des­voye cider farm is loca­ted in the com­mune of Beau­four-Druval in typi­cal Auge coun­try­side and is one of the stops along the "Route du Cidre" (Cider Route). The 10 hec­tares of orga­nic orchards are loca­ted within the Pays d'Auge cider appel­la­tion. Here, they have the bene­fit of a soil that is ideal for their deve­lop­ment and for pro­du­cing the fruit that gives Pays d'Auge cider its unique cha­rac­ter and aro­ma­tic complexity.
This farm regu­lar­ly picks up awards for its cider, Pom­meau and Calvados.
Come and visit our cider cellar with its old timber buil­dings, old press and ageing cel­lars, as well as the more recent buildings.
Then, enjoy a tas­ting of the farm's pro­ducts, inclu­ding perry, AOP (PDO) Pays d'Auge cider, Pom­meau de Nor­man­die, Calvados and apple juice, in the com­pa­ny of the producer.