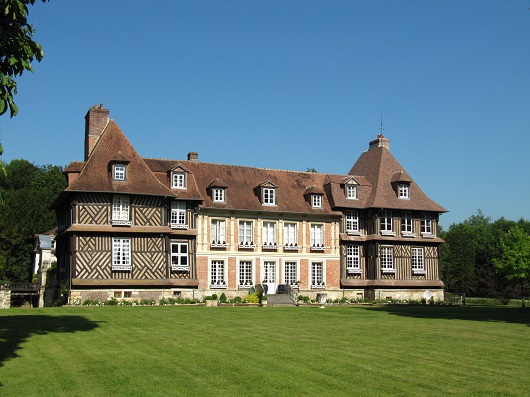 marques
Château du Breuil
Our products
Calvados Pays d'Auge, Pommeau de Normandie
adress
Château du Breuil
14130 Le Breuil-en-Auge
Opening hours
Every day of the year except 25 December and 1 January.
From 9:00 to 12: 00 and from 14:00 to 18: 00

Contact

Tél. : 02 31 65 60 00
Fax. : 02 31 65 60 06
info@chateau-breuil.fr
www.chateau-breuil.fr
---
Languages spoken
French - English - German
This, one of the most prestigious distilleries of Calvados, set in a 16th-17th century château, produces a wide range of Calvados Pays d'Auge and Calvados-based products, from the most traditional to the most innovative.
Set in the heart of the Pays d'Auge, amid 28 hectares of grounds populated with centuries-old trees, Château du Breuil (a listed historic monument dating from the 16th and 17th centuries) is home to one of the most prestigious distilleries in Calvados.
Distributed exclusively through the traditional channels (delicatessens, wine stores, hotels, restaurants, bars and lounges) in France and exported to over 60 countries, Château du Breuil produces a wide range of Calvados, from the youngest to the oldest, the most traditional to the most modern and innovative. Each year Château du Breuil's products pick up numerous medals at international competitions.
The distillery run several different guided tours which promise visitors an unforgettable experience calling on all their five senses. Each tour culminates in an exciting finale when the cellar, the barrels, the beams and the walls all come to life. The magic of apples, the magic of fire, the magic of distillation and the Angels' share are revealed in a sensational sound and light show.
In addition to the classic "Five Senses" tour, Château de Breuil offers "Expert" tours, in which visitors can enjoy an exclusive tour of the entire premises and a presentation of all the products (full details on the website). They can even create their own blend of Calvados and take home their unique, personalised bottle. Incredible experiences!
Events are held throughout the year: check out the programme on the www.chateau-breuil.fr website. There is also a special app for children aged 6-12 years old to use during the tour with their parents. Download from the website or on GUIDEEZ Château du Breuil.