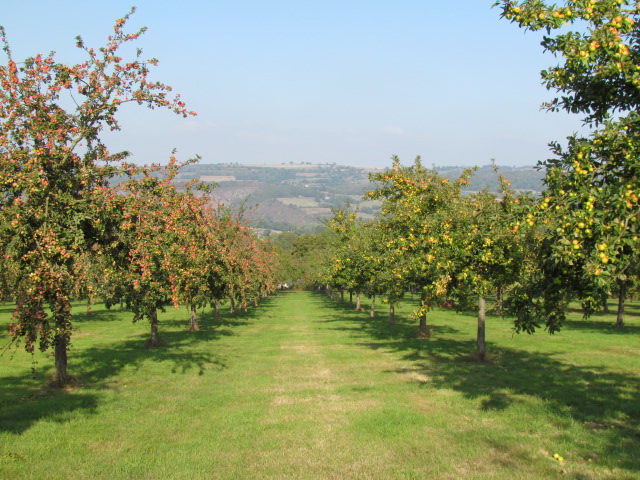 marques
Cave de la Loterie
Our products
Calvados, Cider, Perry, Pommeau de Normandie
adress
La Lote­rie
14570 Clecy
Opening hours
Summer ope­ning hours :
Monday to Satur­day 9.00−12.30 and 13.30−19.00
Sunday:10:00–12.30 and 15:00- 18:00

Winter ope­ning hours :
Monday to Satur­day, 9.00−12.30 pm and 13.30- 19.00
Contact
Régis Aubry
Tél. : 02 31 69 74 38 – 06 15 99 77 71
cavedelaloterie@orange.fr
www.cavedelaloterie.fr
---
Languages spoken
French – Basic English
At the Cave de la Loterie (a cider works in Clécy in the Suisse-Normande), Regis Aubry grows and processes organic apples and pears. He is always happy to receive visitors for tastings, tours and direct sales at the property.
Situa­ted on the slopes in Clécy, in the Suisse Nor­mande area, the Cave de la Lote­rie was foun­ded by Regis Aubry in 1999. It grows and pro­cesses around 30 tra­di­tio­nal and local varie­ties of apples and pears. He took over 8 hec­tares of low stem orchards, plan­ted 4 hec­tares of high stem apple trees and crea­ted his first pro­ces­sing faci­li­ty. This marked the start of his direct sales.
From the outset, part of the pro­duc­tion was trans­for­med into cider and apple juice. Soon, the range was expan­ded to include Pom­meau, Perry and, of course, Calvados. All the orchards have been mana­ged orga­ni­cal­ly since 2009 : "that was the start of the conver­sion". 3 years later, in Octo­ber 2012, all the Cave de la Loterie's fruit obtai­ned orga­nic status. This impor­tant step was also the start a period of rege­ne­ra­tion in the orchards, with new plan­tings every year, inclu­ding the plan­ting of a young, 4‑hectare pear orchard. Today, the farm boasts 23 hec­tares of orga­nic orchards and all the fruit is pro­ces­sed in the new cider house buildings.
Visi­tors can taste the fruit of this labour and find other local pro­duce in the Cave de la Loterie's shop.
The cider works is open to visi­tors all year round (by appoint­ment). During their tour, visi­tors will learn all about the fruit's jour­ney from the orchard to the Calvados cellar.