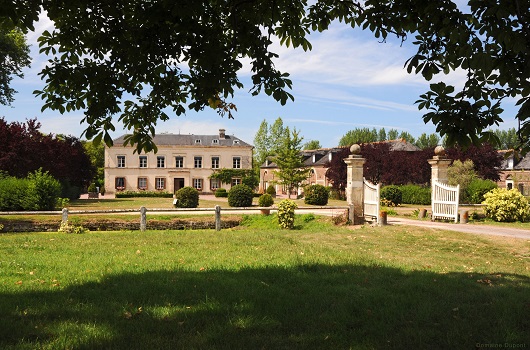 marques
Calvados Dupont
Our products
Calvados Pays d'Auge, Cider, Pommeau de Normandie
adress
RD 16 – La Vigannerie
14430 Victot-Pontfol
Opening hours
Open all year round from Monday to Satur­day from 10:00 to 18:00 (except Satur­days in January).
Open on Sun­days and public holi­days in July/August.
Contact
Marie Marois
Tél. : +33(0)2 31 63 24 24
Fax. : +33(0)2 31 63 14 76
info@calvados-dupont.com
www.calvados-dupont.com
---
Languages spoken
French – English
The Louis Dupont family estate : the quintessence of the apple from an elegant and rich terroir.
The Louis Dupont family estate in Normandy has been pro­du­cing ciders and Calvados in the heart of the Calvados Pays d'Auge appel­la­tion pro­duc­tion area since 1887. With its 30 hec­tares of orchards, the Dupont estate has been dedi­ca­ted to the pro­duc­tion of the highest qua­li­ty for many years. Ins­pi­red by the latest tech­niques used in Cognac and in the craf­ting of the Grands Crus, the Dupont family has stu­died, expe­ri­men­ted and refi­ned its pro­duc­tion pro­cess to achieve a level of ele­gance and expres­sion to rival the finest wines.
The estate has impro­ved its methods by dra­wing on the exper­tise of oeno­lo­gists from the wine­gro­wing regions. It uses tech­niques simi­lar to those for wine : barrel ageing for the Cuvée Réserve, spark­ling wine "méthode tra­di­tion­nelle" for the Cuvée Colette. All its ciders are vintage.
In order to explore new taste pro­files, the estate is constant­ly resear­ching and inno­va­ting : Givre a "sweet apple wine", a triple-fer­men­ted cider, an unu­sual cider in a craft beer style with an inter­es­ting bit­ter­ness, and a high alco­hol (unre­du­ced) Calvados with a power­ful and com­plete expression.
Calvados Dupont is loca­ted along the Route du Cidre, a sign­pos­ted route that runs through the Pays d'Auge, taking in around 20 producers.
The Domaine Dupont team is happy to wel­come visi­tors and explain the art of cider and Calvados pro­duc­tion. The tour takes visi­tors through the dis­til­le­ry and cel­lars and is fol­lo­wed by a tas­ting of the products.
In the shop, you will find other apple-themed pro­ducts inclu­ding apple juice, apple cider vine­gar, apple jam and jelly, Calvados cho­co­lates, apple-pear-cara­mel black tea. Every summer, the team at the estate puts on a number of events – gour­met excur­sions, cock­tail work­shops, dinner concerts – in which you can get to know the estate, its pro­ducts and pro­duc­tion methods in a convi­vial atmosphere.