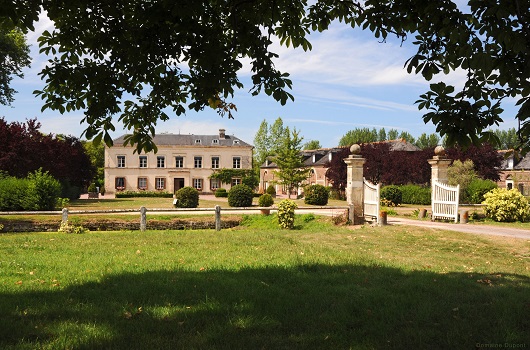 marques
Calvados Dupont
Our products
Calvados Pays d'Auge, Cider, Pommeau de Normandie
adress
RD 16 - La Vigannerie
14430 Victot-Pontfol
Opening hours
Open all year round from Monday to Saturday from 10:00 to 18:00 (except Saturdays in January).
Open on Sundays and public holidays in July/August.
Contact
Marie Marois
Tél. : +33(0)2 31 63 24 24
Fax. : +33(0)2 31 63 14 76
info@calvados-dupont.com
www.calvados-dupont.com
---
Languages spoken
French – English
The Louis Dupont family estate: the quintessence of the apple from an elegant and rich terroir.
The Louis Dupont family estate in Normandy has been producing ciders and Calvados in the heart of the Calvados Pays d'Auge appellation production area since 1887. With its 30 hectares of orchards, the Dupont estate has been dedicated to the production of the highest quality for many years. Inspired by the latest techniques used in Cognac and in the crafting of the Grands Crus, the Dupont family has studied, experimented and refined its production process to achieve a level of elegance and expression to rival the finest wines.
The estate has improved its methods by drawing on the expertise of oenologists from the winegrowing regions. It uses techniques similar to those for wine: barrel ageing for the Cuvée Réserve, sparkling wine "méthode traditionnelle" for the Cuvée Colette. All its ciders are vintage.
In order to explore new taste profiles, the estate is constantly researching and innovating: Givre a "sweet apple wine", a triple-fermented cider, an unusual cider in a craft beer style with an interesting bitterness, and a high alcohol (unreduced) Calvados with a powerful and complete expression.
Calvados Dupont is located along the Route du Cidre, a signposted route that runs through the Pays d'Auge, taking in around 20 producers.
The Domaine Dupont team is happy to welcome visitors and explain the art of cider and Calvados production. The tour takes visitors through the distillery and cellars and is followed by a tasting of the products.
In the shop, you will find other apple-themed products including apple juice, apple cider vinegar, apple jam and jelly, Calvados chocolates, apple-pear-caramel black tea. Every summer, the team at the estate puts on a number of events - gourmet excursions, cocktail workshops, dinner concerts - in which you can get to know the estate, its products and production methods in a convivial atmosphere.