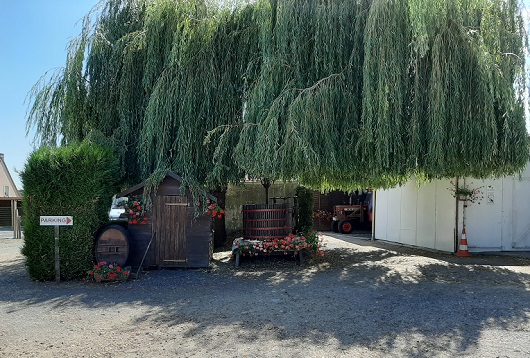 A warm welcome, quality products, an explanation of our work and a tasting of our products.
My story began in 1999 when I became a cider pro­du­cer in Crois­san­ville in the heart of the Pays d'Auge, har­ves­ting the apples by hand with my family and pres­sing them in a screw press in the old tra­di­tio­nal manner !
In 2001, I called on the ser­vices of a trus­ted and talen­ted tra­vel­ling dis­til­ler to pro­duce my Calvados. As time went by, we star­ted to moder­nise, buying a cider press in 2003, then our first auto­ma­tic apple har­ves­ter in 2006.
On 1 Octo­ber 2015, my son, Axel, took over the pro­duc­tion of the ciders, apple juice and cider jelly.
Our high stem orchard is loca­ted one kilo­metre from the farm, and our half stem and low stem orchard is 13 km away. We grow over 25 cider apple varie­ties, with lovely evo­ca­tive names such as Doux de Nor­man­die, Bedan, Binet Rouge, Tar­dive de la Sarthe, Avrolles, Car­ti­gny, Noël des champs, Douce Moen, etc.
We are deligh­ted to wel­come visi­tors to our farm (small in size but big in talent!) for a free tas­ting of cider, Calvados and AOC Pommeau.
We are a small, friend­ly pro­du­cer with a lot of joie-de-vivre and soul.