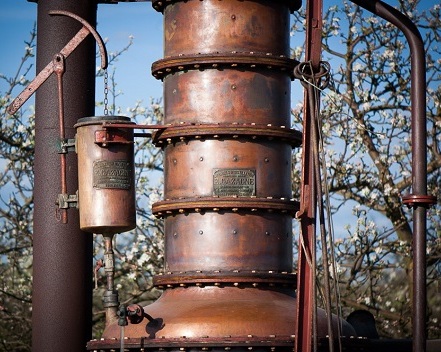 marques
Domaine des Cinq Autels
Our products
Calvados, Perry, Pommeau de Normandie
adress
3 rue de la Forge
14190 Fierville-Bray
Opening hours
Monday to Satur­day from 9:00 to 18:00
Contact
Etienne Fournet
Tél. : 07 89 82 59 63
etienne@5autels.com
www.cinqautels.com
---
Languages spoken
French – English – German
Organic from its inception and certified as such in 1984, sulphite-free. Its products possess a lovely zesty "signature taste"!
Crea­ted in 1984 by Claude and Jean-René Pitrou, Domaine des Cinq Autels is now run by their son and a friend.
Our ambi­tion is to conti­nue Jean-René's pio­nee­ring com­mit­ment to orga­nic agri­cul­ture pro­du­cing ciders with our lovely zesty "signa­ture taste". Cur­rent­ly, in the midst of a full tur­na­round, our busi­ness is upda­ting its pro­ducts with a draught cider range, a clas­sic range and spe­cial labels.
Visi­tors are wel­come to come for a tour and a tas­ting of our pro­ducts. We would be deligh­ted to receive you and show you how we work in an eco-friend­ly manner and pro­duce a heal­thy product !
Our ciders are not like those usual­ly glug­ged down at Epi­pha­ny (with a Galette des Rois), they can be found in the finest res­tau­rants and the homes of real connoisseurs !
For a guided tour, please get in touch with us to make an appointment.