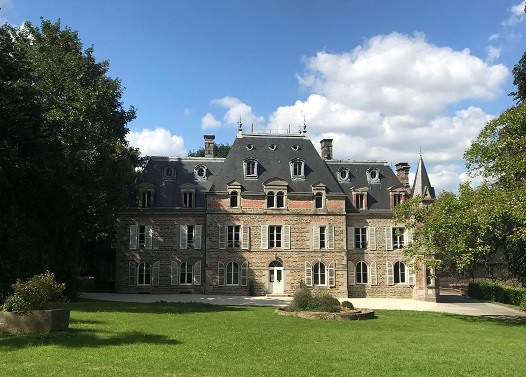 marques
Distillerie Coquerel
Our products
Calvados, Cider, Pommeau de Normandie
adress
Manoir du Coque­rel – Milly
50600 Grandparigny
Opening hours
Monday to Thurs­day (Off Season) from 9:00 to 12:00 and from 14:00 to 17:30
Monday to Thurs­day (High Season) from 9:00 to 12 : 00 and from 14:00 to 17:30
and by appoint­ment on Fri­days and Saturdays.
Contact
Pierre Martin
Tél. : +33 2 3379 0220
Fax. : +33 2 33 49 09 60
info@calvados-coquerel.com
www.calvados-coquerel.com
---
Languages spoken
French – English
We have been producing Calvados, Pommeau, cider and gin since 1937 in our family distillery located just a few kilometres from Mont-Saint-Michel.
We proudly uphold the Calvados traditions, but are first and foremost entrepreneurs with a love of innovation. These eau-de-vies have been selected and blended for their unique characters and their aromatic profiles that represent the finest terroirs of Normandy.
This "spi­ri­ted" family adven­ture star­ted in 1937 when the first eau-de-vie from Normandy cider and perry were dis­til­led on the estate.
Since 1971, the dis­til­le­ry has been headed by the Martin family, who are firmly com­mit­ted to uphol­ding tra­di­tio­nal pro­duc­tion tech­niques, whilst remai­ning open to modern innovations.
Domaine du Coque­rel has its roots in the heart of the Normandy Bocage, just a few kilo­metres from Mont-Saint-Michel. The AOC Calvados cider apples come from a unique ter­roir that has slowly evol­ved since the 10th cen­tu­ry when the first orchards were plan­ted in Normandy.
The blend and the balance of the apple varie­ties selec­ted for its cider pro­duc­tion give Calvados Coque­rel its dis­tinc­tive character.
There are four fami­lies of apples : sharp, which bring balance and har­mo­ny ; sweet, for their sugar ; bit­ters­weet, for their tan­nins ; and final­ly, bit­ter­sharp, for their freshness.
At the Domaine du Coque­rel, the Martin family knows that a great Calvados can only come from a great cider. It has full control of the entire Calvados pro­duc­tion pro­cess in a per­pe­tual quest for the per­fect balance bet­ween the fre­sh­ness of the fruit and the finesse of the eau-de-vie resul­ting from its long ageing in French oak barrels.
The apples are care­ful­ly selec­ted, har­ves­ted and washed before being pres­sed. The fresh apple juice is then left to ferment natu­ral­ly on the estate. The master dis­til­ler care­ful­ly selects the batches of cider once they have rea­ched their opti­mal matu­ri­ty, and dis­tils them in one of three copper column stills. The fre­sh­ly dis­til­led Calvados com­plete their ageing in French oak bar­rels where they acquire grea­ter struc­ture and com­plexi­ty. The cellar master plays an impor­tant role in this pro­cess, making sure that the wood never masks the apple aromas, but brings them out and enhances them.
Domaine du Coque­rel is renow­ned for pro­du­cing Calvados of excep­tio­nal qua­li­ty and has been awar­ded over a hun­dred medals, inclu­ding the Grand Prix d'Honneur from the French Pre­sident, awar­ded to the best Calvados cellar, which it has recei­ved on five occasions.